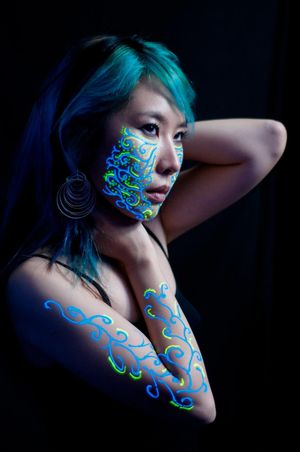 With VENTS Magazine, I talk more about the process of writing the new single Phoenix and what I believe making music is about. 
"I truly believe that making music or anything creative is a spiritual process. Maybe not for everyone, but at least to me. It's about understanding your limitations and learning to love and deal with them in creative ways. That's what makes you unique as an artist or human being in general." 
---
Hi June, welcome to VENTS! How have you been? 
– Hi, thank you for featuring me on VENTS. I've been good. I know that because I've been waking up with melodies in my head instead of thoughts that go, "I wish I was a bear so I could hibernate." 
Can you talk to us more about your latest single "Phoenix"? 
– It's a song about letting go of the past and renewing yourself. It's the first song I've released after I put my band Clandestine on an indefinite hiatus in 2012. Since then, I went through an intense period of self-reflection. I got so preoccupied with the idea of what my next music should sound like, and at one point, I kind of became like the South Park character in an episode where he couldn't listen to any music because it all sounded like c***. It was awful because music had been always my greatest love and joy in my life. So I did a lot of self-work and opened my ears to many different kinds of music. My life became more abundant because there was more music to enjoy, and I could relate to more people as well. On the other hand, it was confusing as an artist because I didn't know what my so-called "style" or "genre" was. At first, I was completely lost and couldn't write anything for at least a year. Writing without heavily distorted guitars and pounding drums was like learning to walk again after breaking a leg. After trial and error, "Phoenix" was the first song that I felt reflected my new musical direction and authentic self-expression. 
Did any event in particular inspire you to write this song? 
– The inspiration behind the song was the myth about swans that they only cry when they're about to die. In order to grow into a more conscious, wholesome person, I heard that we may go through many "little deaths" in our minds. Coping with the end of my band which I had put my everything into was definitely one of them. I also had to let go of some personal relationships that used to mean a lot to me, including someone I thought who really understood and saw me as who I was. Maybe it didn't work out because of that very reason; all of my insecurities came up to the surface. I don't like abusing the word "depression," but there's no other word to describe what I went through. Something was dying inside my heart, and it was very difficult to process. I slowly accepted that it was time to end the grieving or else I would be buried in the past. Then one day in my dream, I saw someone playing my song on a burning piano. That's the image I described in the verse of "Phoenix." 
Any plans to release a video for the single? 
– Yes, there's a lyric video for the "Phoenix" getting ready to be released very soon. 
How was the recording and writing process? 
– The initial writing process was painful because of what was going on at that time, but the recording was relatively a breeze and liberating because I was finally completing the product. I worked with some great producers like Jaime Jones from All-4-One and Matt Wong whom I met through the Songwriting School of Los Angeles (which helped me get back on my track when I was stuck with writing). 
Does South Korea plays a role in your music? 
– I was born and raised in Korea, so I'm sure it affected me in some ways although it's not very obvious in my current music. I think Koreans are mostly moved by very emotional and dynamic melodies than production effects. So when I listen to a song, my attention naturally gravitates toward its melodic shape more than anything. I don't think my music can be categorized as K-pop because it's all written in English, but there's some melodic sentiment that might appeal to listeners from Asian countries. 
How has your musical journey have shaped you and help you grow as an artist? 
– I truly believe that making music or anything creative is a spiritual process. Maybe not for everyone, but at least to me. It's about understanding your limitations and learning to love and deal with them in creative ways. That's what makes you unique as an artist or human being in general. The fact you don't sound like your ideal can be a good thing. You also learn to not compare yourself to others or judge someone else's creation. By making something from nothing, you get to experience how hard it is to skillfully yet authentically express your idea. Instead of blaming yourself for not being able to do everything perfectly, you have to accept where you are today and keep working toward your goal. Everyone's goal is different, but mine is to be able to always express true feelings and connect with others deeply through all my creative endeavors. 
Does the new single mean we can expect a new material – how's that coming along? 
– I have a couple more completed songs that will be released under the EP title, "Playing with Fire" in the next few months. I have quite a few songs in the vault that I'll be working on with producers through and after the EP release. I suspect the next batch of songs will sound quite different from the Playing with Fire EP, and that's why I'm planning to release them separately as a different EP or singles. The cool thing about this solo project is that I get to make music with many different people and experience the unique synergy that comes with each collaboration. 
Any tentative release date or title in mind? 
– The current plan is to release "Playing with Fire" EP by early September. 
Any plans to hit the road? 
– I'm itching to perform on stage again, but not at the moment. I'll put that in next year's goal. 
What else is happening next in JUNE dARK's world? 
– Besides music, I'll be writing for my upcoming blog on my site, junedark.com. I've never blogged before or shared something personal on the web until now because I'm very introverted and private. I decided to be vulnerable and talk about some very difficult things that happened in my life because I've gained valuable insight from those experiences. I have no desire to be seen as a perfect person or some mysterious artist that lives among the clouds and rainbows. In fact, the thing I enjoy the most as an artist is connecting with people around the world who resonate with the music and messages I share. I put all my resources and efforts into creating music, but it's not just about making it sound good. My songs are invitations to others to join a deep, heartfelt conversations with me or themselves. I want to help others heal through expressing their soul in any medium they choose. I love all people who have the courage to share what comes from the heart, no matter what shape it's in.

Photo by CeeDubH Photography