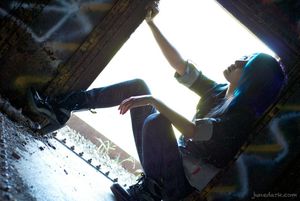 Genre bending singer-songwriter JUNE dARK tells us the story behind her solo debut song, "Phoenix." Here is the story: "Sing like a swan, rise like a phoenix..." My solo debut song, "Phoenix," is an ode to a personal transformation. 
Before I was JUNE dARK, I was born June Park (means "light" and "naive" respectively) in South Korea. I grew up as an ugly duckling -- a painfully shy, sensitive, and overthinking child who stuck out like a sore thumb. I couldn't figure out how to fit in for the life of me. It seemed like, in order to be accepted, I had to become someone else. But I was too terrible at it. 
When I was 13, my mother asked if I wanted to get growth hormone injections in my knees. I was always the shortest kid in class, and she was disheartened that I was getting ridiculed for it. I pondered upon the idea for a few minutes, and then replied, "No mom, I would rather be who I am." I didn't know why I shed tears as I told her this. Maybe I knew deep down that I was being led to a painful yet beautiful path -- the lifelong journey of self-acceptance and compassion through creative living. 
I left my home country when I was 17 and came to the States. I formed a progressive metal band, Clandestine, which sent me to my swan-phase. I had a blast playing with some of the best musicians in Los Angeles, signed with an indie label and toured nationally. I commanded the crowd with blood-curdling screams to let them know I had something to say. I was one of the few females active in a genre largely preferred by the male audience. I wanted to empower women by being a good example, but I confess I lacked the understanding of true femininity -- the part of me that I shunned away from because I had to stay strong against shame. After years with the metal band, I developed a strange curiosity about my vulnerability -- the part of me I've kept in the vault. That's when I started dabbling with a variety of music styles that didn't involve distorted guitars and writing songs about... love. 
Soon after that, the band fell apart in 2012, and I was lost. So I thought it was a time to get a "real" job. I worked for a K-pop label as a project manager only to realize I was more miserable to work in the industry while having no time or sanity to produce my own material. I was becoming a shadow artist, obscured by someone else's limelight because they were more mainstream-worthy. Caught up in the idea of what's good enough, I struggled to write even one measure. It was the side effect of the job description - being required to judge artists based on their commercial viability. 
I exited the industry, and my life got eerily quiet. I had no band, no job, no direction. Years of shame and trauma which had been coursing through my veins finally caught up with me, and I started seeking therapy. Over 3 years, I slowly regained confidence to create and rebuilt my identity as an artist. I cried a swan song, and the hurtful memories became a constellation in my mind. Then, the "Phoenix" was born and waited patiently until I was ready to release it to the world. 
Sorry, June Park. I refused to be naive. I am JUNE dARK, following the light through the darkness to find my true self. Dear readers and listeners, are you following the light? Can I hold the torch for you when you're lost? Can you hold it for me when I fall? When we meet, let's toss our torches into a bonfire. It will grow big enough to warm up the distant hearts of people who forgot to love. That flame is our creativity.