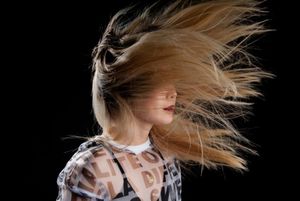 *This interview was originally published by Big City Thoughts in July 2016 
1. What inspired your name change from June Park to JUNE dARK?  
June means "light," and Park means "naive" in Chinese characters. Maybe that was the image my parents and Korea expected of me. When I came to America, I gave myself the stage name JUNE dARK to bring the "light" into "dARK" through creative expression. I simply flipped the letter P, and that sounded more like me.  
2. You've recently departed from your days in the metal band Clandestine and moved to the United States to pursue a solo career. What sparked this decision?  
I moved from Korea to the US to form Clandestine, which was the band of my dreams. I had the privilege to work with amazing musicians, tour all over the States, and meet some great music fans. After a few years I wanted to explore more vulnerable sides of myself, which I hadn't had a chance to express in a progressive metal band. I used to be very specific about what kind of music I should make or listen to, only to realize I was limiting my appreciation for music and self-expression in general.  
Through releasing solo material, I'm learning to trust that my voice can carry authenticity regardless of the genre I'm working with. I'm also finding voices I never knew existed within me by experimenting with different sounds. I delayed this solo release for a long time because I was afraid of disappointing metal fans or being seen as a sellout. Oddly, this solo project became a milestone of my spiritual journey, because I'm finally facing my fear of what others may think of me. Being vulnerable is worth it for an artist because listeners deserve to experience authentic art. It doesn't mean that I abandoned Clandestine or heavy music; it's simply where I am at the moment.  
3. How do you think that growing up in South Korea has impacted your music?  
I love Korea for its passion for music, and it definitely affected me in a good way. But because of the school system at that time, growing up there made me question what is authentic, and the idea of success and happiness. My music is a reflection of feelings and experiences to be shared with others on a heart-to-heart level, not a means to gain what most people think of as success.  
Where I grew up, the schools were oppressive and even abusive. Everyone was supposed to look the same and work for the same goal—the perfect score on the paper. In my middle school, my math teacher used to strike students' bare hands with a thick, acrylic ruler. The number of strikes matched the number of wrong answers on the test. During one of the sadistic rituals my hands became sliced open and bled. (And yet I still suck at math. I'm relieved to hear that these kinds of things don't happen anymore.)  
I got into a pretty good high school in which I had to take a big test to get in. I was placed in Class 1, which was set up for students in the top 10% based on the test results. During the semester, if our grades fell below a certain score, we were demoted to Class 2, 3, etc. It was meant to humiliate us. The competition was meaningless to me, but it helped open my eyes to what mattered. I wanted to put my time and effort into making music, the thing that pulled me through hard times. So I quit high school after 3 months, got a GED (to ease my parents' anxiety), and moved to America to pursue music.  
4. Let's talk about "Phoenix." What was the inspiration behind the song? Why did you choose it as the first release from your EP?  
When I was a little girl, I was once told that swans only cry when they're about to die. Regardless of its validity, I couldn't stop wondering why they would do that. It was such a sad thing to imagine. Were they ashamed of their voices because people only noticed them for their snow-white feathers and long, graceful necks? I thought maybe the swan's last cry was the song it had been suppressing its entire life. Or that it could be a song of celebration before crossing to another world. It all depended on the perspective.  
The line "Sing like a swan, rise like a phoenix" is about the transformation of ourselves from one level to another. Around the time I wrote the song, I was going through a tough time trying to cope with the loss of the band and the personal relationships that came with it. I had to move on from all the things I cultivated for years, and it felt like I would have nothing left if I did. But I trusted there was light at the end of the tunnel, however long it was. This song is like my swan song. Writing it helped me move on to the next phase and come back as a stronger person, with more passion for life. That's why I thought it deserved to be the first song on the EP.  
5. What do you want your fans to know most about you?  
If you're someone afraid of pursuing your dream, I want to hear from you and encourage you to keep trying. A demon is not a red guy with horns and a pitchfork, but the voice that tells you there's no meaning in life and creativity. My goal is to keep fighting my inner demon so I can connect with you through music. And whoever you are, I would love for you to do the same with whatever medium you choose. No matter how far apart we are, I bet we'll meet somewhere if we stay on the same path.