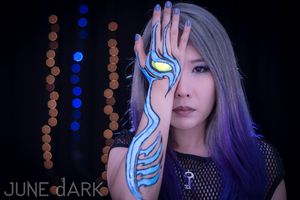 Recently, I was interviewed by Kendra Beltran of ZO Magazine. I talk about my recent visit to Korea, the new EP "Leechcraft", my unexpected union with K-pop, and more. Go here to see the original interview.
Take a Leap with JUNE dARK
This year has seen JUNE dARK back in her native South Korea – twice. Once before this interview and again when these questions landed in her inbox. As with any visit to a place you once called home, it stirred up a range of emotions for the alternative pop maestra. "I've recently realized I've lived half my life in the US. Maybe that's why I feel this eerie combination of familiarity and awkwardness when I'm in Korea," JUNE dARK said as she caught us up on what she's been up since we last spoke. 
Soon enough, a world away from my own, she opened up about a trio of new songs that appear on her new EP, Leechcraft, out now. She also talked about her time immersed in the K-Pop realm…so take a look at what she had to say and get a copy of her charismatic EP today. 
Kendra: I saw an interesting post you made about the "Memory of My First Song," in which you revealed you were a very young realist at seven-years-old when you declared, "Nice things didn't last." Do you feel that moment shaped how you approached every step you've taken since then in your career? 
JUNE dARK: I think the whole "things don't last" concept is the basis of my anxiety, the thing that cripples me and begs me to create at the same time. It's terrifying that certain thoughts and feelings can simply disappear if I lose my memory. It would be as if they never existed. So for me, making something that reflects my feelings and thoughts is like snapping a photo of something I want to remember. 
Many photographers don't just take photos of beautiful scenery, but things they find along their journey that can be dark and grotesque. I want to do the same with music. No matter what my feeling is, I want to capture it and express it through my own filter. No matter how small I am in the scope of the universe, it will serve as evidence of my existence. At least for my own personal record. 
Kendra: You're taking your next steps this fall with a trio of new songs starting in October. Are they connected in any way or three individuals? 
JUNE dARK: These three songs are a collaboration between me and a team of producers that go by Master Andross. Mitchel HeijdelI of Master Andross first found me through my band Clandestine years ago. We'd been connected on Facebook and Twitter for a very long time, though without much communication. Then one day I heard some of his instrumentals on social media and commented on how great they were. He replied saying he'd been listening to Clandestinefor years! That's how we started collaborating. 
I feel very lucky to have found such an eclectic producer. I titled the new EP Leechcraft, which means "the art of healing." The songs follow a theme of exploring one's shadow self. The first track, "Take a Leap," is about manipulation; the second track, "Ms. Anesthesia," is about self-medication; and the last track, "Grenadier," is about codependency. 
Kendra: You've also been penning K-Pop songs for the past year or so, right? One even made it into a commercial in Taiwan! How'd you fall into that realm? 
JUNE dARK: It's interesting how life can throw curveballs at you just when you think you know how it's all going to pan out. I would never have guessed I'd be writing K-pop. Then, through a producer friend of mine, I met an American music producer building a collection of songs in foreign languages for TV and film placement. It was a lot more fun than I thought. It forced me to write in ways I never have before, which was good. 
Since K-pop is very different from my own project, it's almost like I get to be a different person when I create it. Regarding the Taiwanese TV commercial, it was cool to see one person's YouTube comment read something like, "Who sang in the background music? I like it!" That really made it all worth it. Unfortunately, I don't own the rights to most of these K-pop songs, so I can't share them with listeners. I'm considering writing my own songs in Korean in the future. There's a special feeling that comes with singing in my mother tongue. 
Kendra: Other than the EP, what can we expect from you as we start to close out 2018? 
JUNE dARK: I'll be working on more music for next year, and possibly performance videos for the Leechcraft EP. I've got some other surprise stuff planned. I'm not the most comfortable on camera. I figure it's something I need to overcome in order to better reach out to my listeners. I'm planning on writing more blog entries following "Memory of My First Song" to provide insight behind my creative processes in the hopes it inspires other artists to continue their endeavors. 
Every creative labor peels another layer from the self. I always find it to be a humbling and yet eye-opening experience. Each song, blank page, and empty canvas presents an opportunity for us to reinvent ourselves. I want to encourage everyone I can to take that journey.